Michigan Fiberglass Sales is a complete supplier of fiberglass and composite materials since 1953.
We offer a complete line of :
Polyester Resins
Vinyl Ester Resins
Epoxy Resins
Urethane Mix and Pour Foam
Vacuum Bagging Products (Resin Infusion, Hand Lay-Up & Oven Cure)
Marine Grade Epoxy Resins and Gel coats Supplies and Tools
Please phone our staff for free technical assistance.
Retail Pricing on Products Page
Pour Foam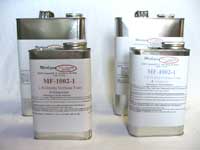 Distributor for
Wholesale & Retail



Michigan Fiberglass Gelcoats are formulated with are own formulation,
creating the highest quality Gelcoat available.
Michigan Fiberglass is an Authorized Distributor for

Duratec® Products
Aqua-Buff® Products
StyroSafe® Products
ADTECH Marine Systems
Preval Sprayers